Help Your Favorite Charity with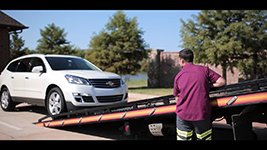 Instant Car Donation was founded with the goal of creating a win-win for charities and donors.  We connect people like you, who want to donate your car to support the things that matter most, with local charities, using an a simple and straightforward process. Have you been searching the internet, trying to make sense of the rules for donating your car? Look no further.  Our service provides you with the opportunity to focus on deciding which respected charity is right for you, rather than spending time navigating the complicated tax laws for car donations.    All it takes is a few moments on your part to fill out your contribution form.  We will arrange a free pickup of your vehicle, and assist you in recieving the best tax benefit possible for your generous gift. We take pride in helping smaller and medium-sized charities receive car donations, and providing support to those who are doing some of our community's most important work.
Charities of the Day
It's your BLO. You make opera happen.
The mission of Boston Lyric Opera is to build curiosity, enthusiasm, and support for opera, by creating musically and theatrically compelling productions, events, and educational resources, for our community and beyond. We produce opera in all forms, large to small, popular to less known, from early music to newly commissioned works.Boston Lyric Opera is New England's largest opera company. Founded in 1976, BLO is recognized for its artistically excellent productions of a diverse repertoire that entertain and inspire audiences and feature emerging operatic talent. BLO produces four mainstage productions each season: three at the Citi Performing Arts Center Shubert Theatre in Boston and an Opera Annex production in an alternative space outside the traditional opera theatre. BLO's programs are funded, in part, by grants from the Massachusetts Cultural Council and the National Endowment for the Arts.
Life-changing services for homeless and at-risk youth ages 14 to 24 since 1970
Bridge Over Troubled Waters (Bridge) is Boston's premier organization dedicated to transforming the lives of runaway, homeless, and high-risk youth through safe, supportive, and encouraging relationships and effective and innovative services that guide them toward self-sufficiency. Bridge began in 1970 with a small but energetic group of staff and volunteers, who offered free and confidential services to homeless young people on the streets of Boston. Of the young people who seek help at Bridge, 100 percent live at the poverty level. Bridge offers a safe and supportive environment in which these troubled youth can find out who they are and where they want to be. Then we help them get there.
Protecting vulnerable consumers and promoting marketplace justice
The National Consumer Law Center (NCLC) is the nation's consumer law expert, helping consumers, their advocates, and public policy makers use powerful and complex consumer laws on behalf of low-income and vulnerable Americans seeking economic justice. In addition to disadvantaged consumers everywhere, we devote special attention to the problems of immigrants, vulnerable elders, homeowners, former welfare recipients, victims of domestic violence, military personnel, and others. NCLC also provides support on issues involving consumer fraud, debt collection, consumer finance, energy assistance programs, predatory lending, and sustainable home ownership programs.
Neighbors helping neighbors
Founded in 1969, the Council of Social Concern is a charitable, community-based agency responding to the basic needs of people of all ages, providing early childhood education and care, helping individuals develop their potential, creating positive family and community relationships, and fostering respect for diversity. We envision a viable agency providing quality services that meet basic and changing community needs in-line with our mission.
Tax Benefits
It is important to us at Instant Car Donation that you receive the largest allowable tax deduction possible without having to navigate complexities or perform extensive research. We pre-qualify all of our participating 501-c(3) non-profit charities to verify your donation will be tax deductible. The process will be streamlined for both you and the charity of your choice. We will provide you with an IRS 8283 tax form after your donation is complete.
The Importance of Choice
Donating a car is one of the most financially responsible ways to make a large charitable contribution.  Although the donee receives a tax benefit, the charity may benefit even more, by receiving a windfall that can help it to fund important projects.   Because of this, one of our primary goals is to match donees with the charities that best reflect their beliefs and values.  At Instant Car Donation, we always make charity choice an integral part of the process.  
For those of you who haven't decided on a particular charity, you can also indicate that on your contribution form and we will be happy to help your choose a charity that's right for you.
Your Local Community
There are many charities in your local area which can benefit from your car donation. We not only help you donate to a nearby charity, but we also focus on providing small local non-profits with an easy way to accept donations so that they can focus on their important work. Often the donation will make the biggest difference for such charities, bringing people together while helping support those in their local community who need it the most.